USING THE POWER OF THE SUN
The Jugend Eine Welt Solar Programme
Allowing more people in Ethiopia and Uganda access to electricity, protecting the environment and giving young people the chance of a promising education and a way out of poverty – these are the declared goals of the Jugend Eine Welt solar programme.
The programme thus contributes to achieving important SDGs, the sustainable development goals adopted by the United Nations. In particular, SDG 4, "inclusive, equitable quality education and lifelong learning opportunities for all" and SDG 7, "access to affordable, reliable, sustainable and modern energy for all" are implemented in the programme.
The solar programme is currently in its second phase. The first phase started in 2016 in Ethiopia. Since 2019, the programme has also been implemented in Uganda. Supported by the Austrian Development Agency and in cooperation with educational institutions of the Salesians of Don Bosco, Jugend Eine Welt is establishing branches of training in electrical and solar engineering at nine locations.
In the practical implementation of the programme on site, Jugend Eine Welt is supported by Senior Experts Austria and Ingenieure ohne Grenzen Austria.
THE SOLAR PROGRAMME IN ETHIOPIA
Referring to Ethiopia's 13-month calendar, the first programme phase began in 2016 under the title "13 months of solar energy per year!". Until 2018, training modules for solar energy were introduced at Don Bosco vocational schools in the cities of Adwa, Addis Ababa, Dilla and Gambella.
Since then, young men and women have had the opportunity to become electrical engineers with a focus on solar technology/photovoltaics after three years of training. Students who work can take part in short courses for further training in solar technology. By establishing modern solar workshops and installing sample photovoltaic systems at the vocational schools, the training courses have a strong practical orientation. Teachers of solar technology are also trained in special Train the Trainer courses.
"13 months of solar energy per year!" - the first programme
In addition to solar training, the programme also strives to strengthen the environmental awareness of young Ethiopians. For this purpose, so-called Green Clubs were initiated at elementary and secondary schools, in which schoolchildren and young people playfully and creatively deal with topics such as nature conservation, waste disposal and sustainability.  
In order to ensure the greatest possible sustainability of the programme, Jugend Eine Welt networks with other local educational institutions and cooperates with government agencies and other national and global development programmes in the fields of education, the environment and energy. 
An important milestone is the state accreditation of the solar trainings. This means that its contents are also available to other state educational institutions, which will in future be able to offer young people training as solar technicians as well.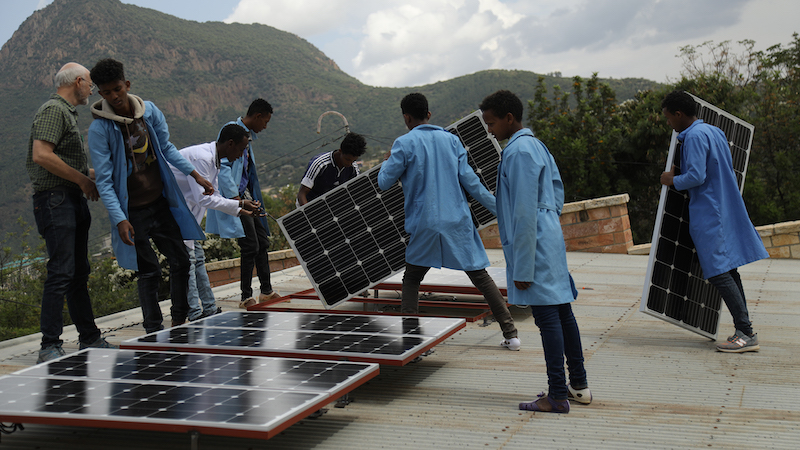 While the training courses in Ethiopia are already producing the first graduates, the second programme phase started in Uganda in 2019. By 2022, solar technology training is to be introduced at schools in Palebek, Kamuli and Bombo. The exchange of knowledge is a top priority, as the locations in Uganda benefit from the experience gained in Ethiopia. This way, course modules can be optimised and the programme can be implemented even more efficiently. 
But the programme is also being expanded in Ethiopia: With Mekelle and Bosco Children, two more vocational schools will be added there in 2019. In total, there are now nine vocational schools in Uganda and Ethiopia that can offer young people training in the promising field of solar energy. 
As in the first project phase, teachers of solar energy will also be trained in Uganda. There will also be other Green Clubs in Uganda so that the young generation can develop awareness of the importance of environmental protection from an early age. Exchange with local institutions and integration into national energy strategies are also important in this second phase of the project.
FOCUS ON THE PROMOTION OF WOMEN
As in Austria, women in Ethiopia and Uganda are still severely underrepresented in technical training and occupations. Jugend Eine Welt therefore pays special attention to the promotion of women in its solar programme. They are expressly encouraged to take part in the courses or to become teachers of solar technology. There are already some role models who work as solar electricians or teach the subject. This active promotion of women and girls is bearing fruit: the proportion of women in electrical engineering training is now higher than at Austrian HTLs for electrical engineering.
"The Solar Programme pays special attention to the promotion of women."