SOLAR TECHNOLOGY - TRAINING WITH A FUTURE
Focus on solar training and educational institutions
Ethiopia and Uganda have set themselves the goal of improving the electricity supply for their citizens. Solar energy has the potential to make a significant contribution to the success of this project and to open up remote areas. At present, however, there are only a few institutions in both countries that offer young people training in solar technology. There is a lack of skilled workers to further promote the spread of solar energy. 
Here the training centres of the Salesians of Don Bosco play an important role: The partner of Jugend Eine Welt operates around one hundred vocational schools in Africa and is thus one of the largest providers of technical vocational training on the continent.
In Ethiopia and Uganda technical and vocational education and training (TVET) is one of the most important areas of the education system. It is regarded as an important component in combating poverty and unemployment and increasing the low level of technical development. The TVET training courses of the solar programme have since enabled young people to contribute to the economic and social development of their home countries as well-trained specialists.
"Our Don Bosco Partners are always on the spot."
The solar programme cooperates with the Salesians of Don Bosco and thus uses the existing infrastructure at local educational institutions. In this way, the programme benefits from the existing networks and experience and can reach even more young people.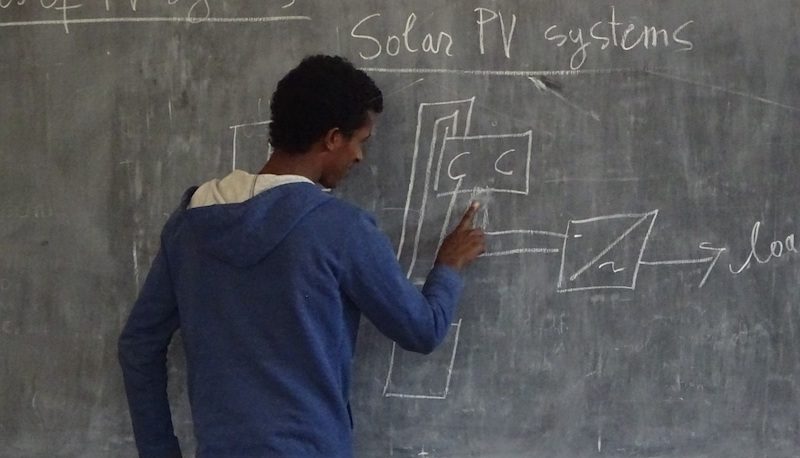 LOCATIONS - THE VOCATIONAL SCHOOLS IN ETHIOPIA AND UGANDA
In Ethiopia, solar courses have already been implemented at four locations in Adwa, Mekelle, Dilla and Gambella. In the programme phase from 2019 to 2022, two further locations will be added. In Uganda young people will be able to train in solar technology at the three Don Bosco schools in Kamuli, Bombo and Palabek.
The facilities in Adwa, Dilla, Gambella and Addis Ababa/Mekanissa already have solar workshops and experience in solar training. The vocational school in Mekelle also has an excellent reputation and is expanding its range of training courses to include solar technology courses. Bosco Children in the capital Addis Ababa is a street children's project that offers accommodation and care to 130 children and young people. The range of short vocational courses is also being expanded to include solar courses that teach basic knowledge of electrical and solar technology to the children and young people being looked after.
The Don Bosco Vocational School St. Joseph VTC in Kamuli, Uganda, offers further training to around 450 trainees in eleven different fields. A little north of the capital Kampala, the Don Bosco Training Centre in Bombo trains around 250 students in five disciplines. In Palabek in northern Uganda, adjacent to the refugee camp there with around 43,0001 inhabitants, a technical training centre is being set up to provide both refugees and the local population with basic knowledge of solar energy and the installation of photovoltaic systems in addition to other professions. Especially in a humanitarian context, a sustainable energy supply with solar energy plays an important role.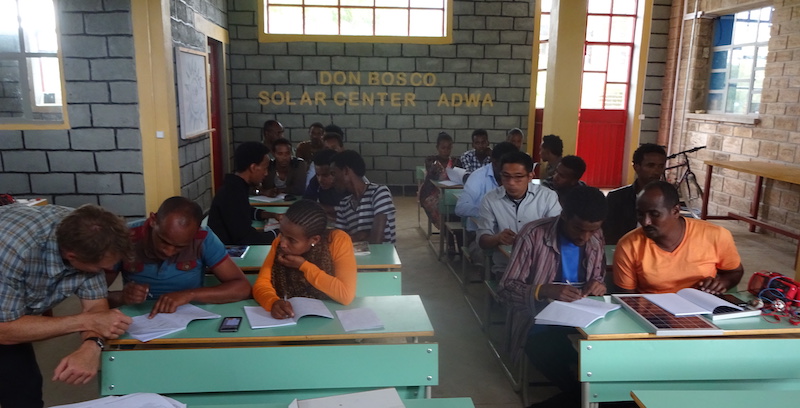 Solar training is designed for young people and young adults. In Ethiopia, there are three-year training courses in electrical engineering and industrial electronics, in which solar technology is now integrated. In Uganda, training as an electrical engineer takes two years. In two training centres in Uganda and three training centres in Ethiopia, 30 young people can complete their training each year. In addition, short courses in photovoltaics are offered, which were completed by more than 500 people between 2016 and 2018. The courses enable professionals to obtain an additional qualification as solar technicians.
A key component of the programme is the training of teachers in the field of photovoltaics, who in turn are able to train students. Within the framework of the solar courses, sample solar plants are set up in all participating centres. These are used for the practical part of the training and supply electricity for the schools. In various pilot projects, around 100 young people will also be helped to enter the labour market. 
Since many of the Don Bosco apprentices come from disadvantaged backgrounds, the courses are an opportunity for them to learn promising professions and feed their families. 
In order to increase the sustainable use of natural resources, the use of renewable forms of energy and general awareness of environmental protection, so-called Green Clubs are being set up at elementary schools and secondary schools in Uganda and Ethiopia. In the "Green Clubs", children and young people learn a lot about environmental protection and sustainability in a playful and creative way. This promotes environmental awareness in young people in Ethiopia and Uganda from an early age.